Home
Advent Calendars
Bonbons
Bulk Foiled
Dog Biscuits
Easter Bunnies
Easter Caramels
Easter Eggs
Gift Boxed Chocs
Gingerbread
Gourmet & Truffles
Hot X Buns Chocs
Mints
Pillowcase Chocolates
Shortbread
Wrapped Bars
Xmas Caramels
Xmas Puddings
About / Contact Us
Info, FAQ's, T&C's
Competitions
Advent Calendars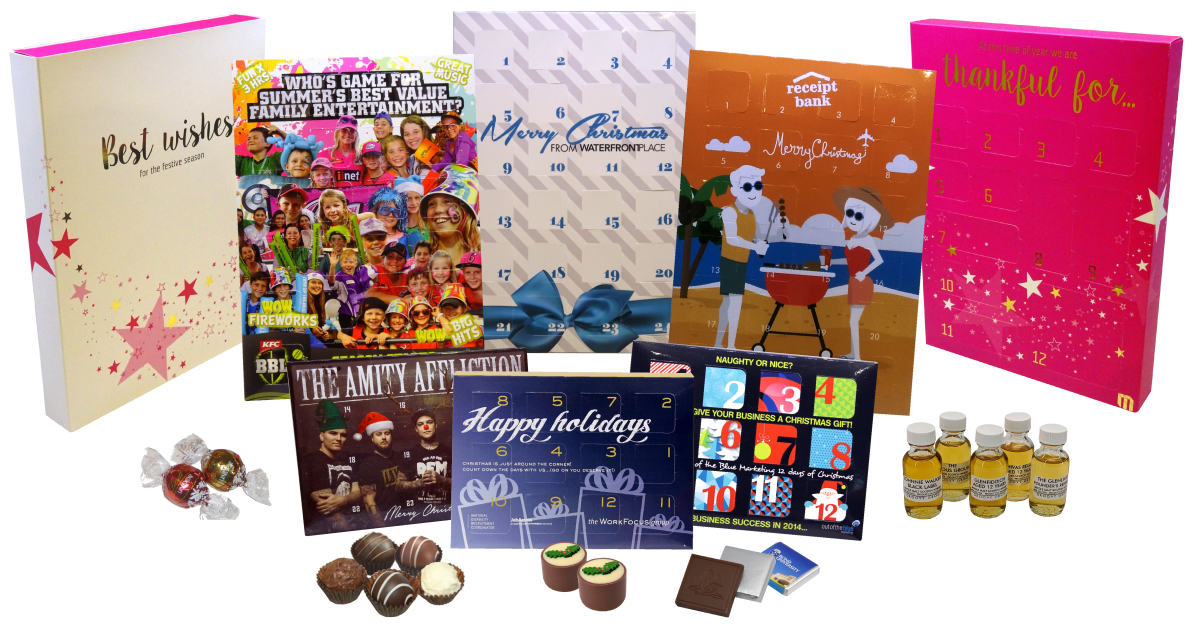 Chocolate filled calendars in a range of shapes and sizes, packed with a choice of luxurious chocolate fillings to suit all budgets & tastes, and also now available with Groovy Grog alcoholic miniatures
All of our calendars feature a full colour print of your own design to all outer sides and are finished in a high gloss laminate (or matt laminate - let us know if preferred). As options we can also print on the rear of each door and also behind the chocolates, allowing reveal when the treats are removed. For an extra special finish we can also add spot UV or foil stamping details too

We can accommodate special requests - if there is a particular treat you want the calendar filled with, but isn't in our range please ask and we'll do our best to work with you to make it happen. This can even be non-edible gifts that perhaps your own company produces - in the past we've filled calendars with costume jewellery, toys, tea samples and even dog treats!

As with all of our products, our calendars are made right here in Australia, and we can supply all year round so the likes of Christmas in July or a countdown to a special event can also be catered for
Choice of contents

Groovy Grog


A selection of high quality Scotch Whiskies, Vodka, Tequila or any other spirit of your choice in 25ml glass bottles


A dram a day for 12 or 24 days! Contact us with your requirements, we'll work with you to make it happen!



Gourmet Truffles




Gourmet truffles for the ultimate luxurious decadence. Mixture of milk, dark and white truffles, or choose your own flavours




Xmas Puddings




C

hocolate containing Rum & Grand Marnier liqueurs in a beautifully smooth praline, decorated with an icing holly




Lindt Lindor


Premium Lindt chocolates. Random mix of fillings from at least 5 different popular varieties
Orders 250+ can have your choice from a selection of 12 flavours, ask us for details on the current full range



Belgian Chocolate Squares




Luxurious Belgian chocolate squares in a foil wrapper. Can also be supplied with a printed wrapper for extra personalisation


Foiled Hearts, Stars, Diamonds, Bells or Kisses


Solid chocolate shapes, in a selection or all the same kind. Foils available in a range of colours or mixtures


Foiled Baubles


Premium chocolate balls in festive gold, red & green colours


Want something else? Suggest an alternative filling - if it fits in our confectionary trays we'll work with you to make it happen. Alternatively supply your own fillings - and not just limited to edibles, little gifts work too. Contact us to discuss your requirements

We can also personalise the reverse of the doors and behind the chocolates for additional surprises!
A4 Advent Calendars
A4 with 24 doors - our most popular size certainly makes an impact Available in both landscape or portrait orientation (Whisky miniatures - landscape only)
Click to enlarge
Size
300 x 216 x 18/34/80mm (depth varies depending on contents, 80mm only for Groovy Grog)
Minimum Order
50
Shelf Life
6 months
Artwork Required
EPS, PDF - contact us for templates
Options

Rear of doors and behind chocolates can also be printed


Belgian chocolates can be supplied with printed wrappers
Can be supplied with presentation sleeve
Lead Time
3-4 weeks




A5 '12 Days of Xmas' Advent Calendars
A smaller 12 door Advent Calendar for more traditional occasions Available in both landscape or portrait orientation (Whisky miniatures - landscape only)
Click to enlarge Click to see a creative example used for a wedding
Size
213 x 150 x 18/34/80mm (depth varies depending on contents, 80mm only for Groovy Grog)
Minimum Order
50
Shelf Life
6 months
Artwork Required
EPS, PDF - contact us for templates
Options

Rear of doors and behind chocolates can also be printed


Belgian chocolates can be supplied with printed wrappers
Can be supplied with presentation sleeve
Lead Time
3-4 weeks



A4 '12 Days of Xmas' Advent Calendars
A4 sized, but with 12 doors of varied sizes. Front has a spacious 210x60mm area at top uninterruped by doors - great for keeping your logo or message prominent Based on our standard A4 tray, the doors open to reveal a range of 1, 2 & 4 cavities for the treats (6 x single door, 5 x double, 1 x quad = 20 cavities for treats) Portrait orientation.

Click here for template example

Click to enlarge
Size
300 x 216 x 18/34/80mm (depth varies depending on contents, 80mm only for Groovy Grog)
Minimum Order
50
Shelf Life
6 months
Artwork Required
EPS, PDF - contact us for templates
Options

Rear of doors and behind chocolates can also be printed


Belgian chocolates can be supplied with printed wrappers
Can be supplied with presentation sleeve
Lead Time
3-4 weeks




Pre-filled Customisable Design Templates



Want your own branded Advent Calendar but don't have time or a graphics department to design it from scratch? Choose one of our pre-filled templates - the easy solution! With a few simple tweaks they will look like they were made specially for you - change the background to match your company colours, add your logo and perhaps a message too, then send it back to us - we'll take care of the rest.

If you don't have Illustrator/Photoshop or similar graphics software to edit our PDF templates, we can lend a hand. Send us your graphics and as much instruction as possible, we'll knock up a proof and email it to you for approval so you still have final say on the design. If you can manage a rough illustration in Word, Powerpoint or even Paint that's a great help that we can work with (you can even just send us a freehand sketch!). Just like our fully personalised calendars, the pre-filled designs can also have a print on the reverse of the doors and/or behind the chocolates for a small extra charge.

The templates below are just starting points. Want design 1 with a purple background instead of yellow or design 5 with blue numbers instead of white? Easily changed! A5, A4 or A3 size? Portrait or Landscape orientation? Yes we can do it!
Click examples below to enlarge. Contact us for templates
1

2

3

4

5

6


7

8

9

10

11

12